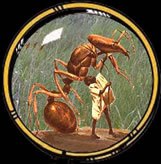 In Zulu mythology, Abatwa are said to be tiny humanoid creatures, that are said to be able to hide beneath a blade of grass and live in ant holes. They are said to live a nomadic lifestyle and continually on the hunt for game.
Legend states that if one happens to come across an Abatwa, one will typically be asked a question like, "From where did you first see me?" One must reply by saying one saw them from a mountain, or some far away area. They are said to be extremely sensitive about their size, and if one answers by saying that one only saw them right then for the first time, the Abatwa will try to kill them with poison arrows. Stepping on an Abatwa by accident is also said to be a death sentence.
Due to their shy nature, they will only tolerate being seen by the very young (said to be anyone under the age of 4), by magicians, and by pregnant women. If a pregnant woman in her seventh month of pregnancy sees a male Abatwa, it is said that she will give birth to a boy.
Ad blocker interference detected!
Wikia is a free-to-use site that makes money from advertising. We have a modified experience for viewers using ad blockers

Wikia is not accessible if you've made further modifications. Remove the custom ad blocker rule(s) and the page will load as expected.