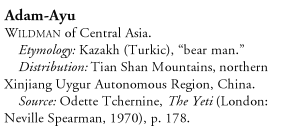 Adam-Ayu
is known as the
wildman
of
Central Asia
. In central Asia, in what, until a few years ago was the Soviet Union, there are stories of a large, ape-like creature that inhabits the mountains. It goes by the name of the
Alma
.
Unlike the better known Bigfoot and Yeti, reports about the Alma say that the creature is much more of a rough, hairy human than an ape. Professor Boris Porchnev, of the Moscow Academy of Sciences, published a description of the creature based on detailed stories he'd gathered from people who had seen it.
"There is no underlayer of hair so that the skin can sometimes be seen," says the report. "The head rises to a cone-shaped peak," it continues, and "the teeth are like a man's, but larger, with the canines more widely separated." Porchnev's description also noted that the Alma can run as fast as a horse and swim in swift currents. Breeding pairs remain together living in holes in the ground. For food they eat small animals and vegetables. The creatures are mainly active at night. The report also noted that the animals have a "distasteful smell."
Ad blocker interference detected!
Wikia is a free-to-use site that makes money from advertising. We have a modified experience for viewers using ad blockers

Wikia is not accessible if you've made further modifications. Remove the custom ad blocker rule(s) and the page will load as expected.