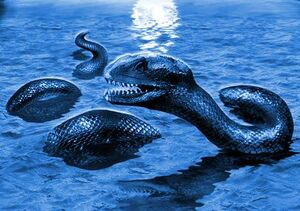 Ashuaps is a North American version of the Loch Ness Monster that originated from Québec, Canada. It was believed to live in the Ashuapmushuan River which flows into Lac Saint-Jean, hence the beast's name. It was described to be 10-60 feet in length, and its colour is deep blue or black.
Sighting
This creature has been sighted since ancient times, but sightings have continued until present day.
In 1978, Marcel Tardif and his wife saw a blackish animal, 50–60 feet long, off Scott Point.
In the same day as above, something overturned a canoe paddled by Michel Verreault, his wife, and daughter.
Ad blocker interference detected!
Wikia is a free-to-use site that makes money from advertising. We have a modified experience for viewers using ad blockers

Wikia is not accessible if you've made further modifications. Remove the custom ad blocker rule(s) and the page will load as expected.