| | |
| --- | --- |
| | "Theoretical speculation is futile unless it is supported by quantitative evidence." |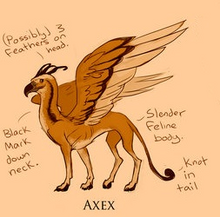 In Egyptian mythology the Axex is described as a creature with the body of muscular feline and the head and wings of a hawk. The skull of the Axex is adorned with three curved appendages which some researchers have suggested bear more than a passing resemblance to the crest of a rooster. The Axex is often associated with the more well known Griffin, visit the Unknown Explorers page on the Griffin for more information on this creature.
"As unpredictable—and probably just as controversial—as UFOs, Leyak are a supernatural phenomenon most feared by many Indonesians."

This article is a stub. You can help the Cryptozoologists and Cryptobotanists on Cryptid Wiki find other information or by expanding it.
Ad blocker interference detected!
Wikia is a free-to-use site that makes money from advertising. We have a modified experience for viewers using ad blockers

Wikia is not accessible if you've made further modifications. Remove the custom ad blocker rule(s) and the page will load as expected.