Welcome to Cryptid Wiki
The wiki about cryptids, that anyone can edit.
---
Cryptids are monsters... except that cryptids could actually exist! When talking about Bigfoot or the Loch Ness Monster you're talking about something that could live right on this Earth right now! On Cryptid Wiki, we document all of the possible information you can get about cryptids and determine if they're real or not.
You can contribute to this wiki. Do you want to make a new article? Just type in the name of the article in the box below and click "Create new article."
We do not accept creepypasta monsters, such as slenderman, herobrine, the rake, or any others as they are, well, creepypasta. If you create a page like this, you will be issued a warning and the page will be deleted.
Providing

1,503

articles

and

7,088 images

since July 29, 2009
Featured Article (February 2019)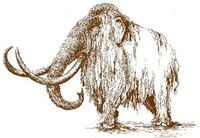 A'tix (also spelled A.tix or Atix) is an enormous, violent monster in the Kaska first nation traditions. Some scholars believe it was based on fossils or ancient tribal traditions of woolly mammoths.
In 1917 an ethnologist recorded their tradition of: "A very large kind of animal which roamed the country a long time ago. It corresponded somewhat to white men's pictures of elephants. It was of huge size, in build like an elephant, had tusks, and was hairy. These animals were seen not so very long ago, it is said, generally singly, but none have been seen now for several generations. Indians come across their bones occasionally. The narrator said he and some others, a few years ago, came on a shoulder-blade... as wide as a table (about three feet)."
on 17th May 2008, while taking a flight from New Delhi to Guwahati, Yekeen was taking a few shots of the beautiful aerial view from above. While taking those pictures, his phone captured a glowing anomaly in the sky that was in a coiled shape.
Read previous featured articles

•

Nominate future articles
Create an Article
To create a cryptid related article, type a title in the box below, and click Create article. But before you do, please check if the article already exists on a different name.
We need your help
Cryptid Wiki is a constantly growing encyclopedia of cryptozoological knowledge. To help the wiki grow, use the search tools provided to find a section of the wiki to help improve. You can improve the wiki by adding more accurate or current information, images, data, and much more. Look around and see how you might like to contribute!
.