Welcome to Cryptid Wiki
The wiki about cryptids, that anyone can edit.
---
Cryptids are monsters... except that cryptids could actually exist! When talking about Bigfoot or the Loch Ness Monster you're talking about something that could live right on this Earth right now! On Cryptid Wiki, we document all of the possible information you can get about cryptids and determine if they're real or not.
You can contribute to this wiki. Do you want to make a new article? Just type in the name of the article in the box below and click "Create new article."
We do not accept creepypasta monsters, such as slenderman, herobrine, the rake, or any others as they are, well, creepypasta. If you create a page like this, you will be issued a warning and the page will be deleted.
Providing

1,428

articles

and

6,143 images

since July 29, 2009
Featured Article (December 2017)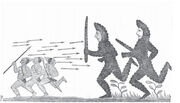 Genoskwa is a subspecies of Sasquatch mentioned in Native American folklore as the "Stone Giant Man". The term Genoskwa is a Native American term meaning "stone giants". An explanation for how the creatures got this name could be that their fur was often coarsened with dirt or mud after rolling around in it, which would later harden and look like stone or possibly an outer-layer of armor protection, possibly against arrows. With this standing as a possible theory, it could be said the Genoskwa may have been no different from the typical Sasquatch (albeit slightly different in temperament) save for the fact they were covered in mud! The descriptions of these creatures are very similar aside from the "armor" aspect of the Genoskwa species.
Read previous featured articles

•

Nominate future articles
Create an Article
To create a cryptid related article, type a title in the box below, and click Create article. But before you do, please check if the article already exists on a different name.
We need your help
Cryptid Wiki is a constantly growing encyclopedia of cryptozoological knowledge. To help the wiki grow, use the search tools provided to find a section of the wiki to help improve. You can improve the wiki by adding more accurate or current information, images, data, and much more. Look around and see how you might like to contribute!
.
Ad blocker interference detected!
Wikia is a free-to-use site that makes money from advertising. We have a modified experience for viewers using ad blockers

Wikia is not accessible if you've made further modifications. Remove the custom ad blocker rule(s) and the page will load as expected.