Welcome to Cryptid Wiki
The wiki about cryptids, that anyone can edit.
---
Cryptids are monsters... except that cryptids could actually exist! When talking about Bigfoot or the Loch Ness Monster you're talking about something that could live right on this Earth right now! On Cryptid Wiki, we document all of the possible information you can get about cryptids and determine if they're real or not.
You can contribute to this wiki. Do you want to make a new article? Just type in the name of the article in the box below and click "Create new article."
We do not accept creepypasta monsters, such as slenderman, herobrine, the rake, or any others as they are, well, creepypasta. If you create a page like this, you will be issued a warning and the page will be deleted.
Providing

1,411

articles

and

6,323 images

since July 29, 2009
Featured Article (July 2017)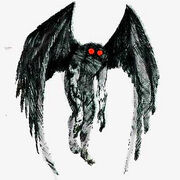 The state of West Virginia has had its fair share of strange and often inexplicable events such the visitation of the Flatwoods Monster and Indrid Cold, but perhaps the strangest yet is the arrival of the creature known as the Mothman, who changed the sleepy little town of Point Pleasant forever when it swooped in one cold autumn night in 1966.

Today, Mothman is one of the most well-known cryptids in the world, made famous partly by John Keel's book (later adapted to film) The Mothman Prophecies. Mothman is also hunted in Mountain Monsters on Destination America.

The first recorded Mothman sighting took place on November 12, 1966, near Clendenin, West Virginia. Five men were in a cemetery preparing a grave for burial when they saw something they couldn't explain. Lifting off from the nearby trees was a brown winged creature. The men held to the fact that what lifted off beyond the trees was no bird, it was a humanoid.
Read previous featured articles

•

Nominate future articles
Create an Article
To create a cryptid related article, type a title in the box below, and click Create article. But before you do, please check if the article already exists on a different name.
We need your help
Cryptid Wiki is a constantly growing encyclopedia of cryptozoological knowledge. To help the wiki grow, use the search tools provided to find a section of the wiki to help improve. You can improve the wiki by adding more accurate or current information, images, data, and much more. Look around and see how you might like to contribute!
.
Ad blocker interference detected!
Wikia is a free-to-use site that makes money from advertising. We have a modified experience for viewers using ad blockers

Wikia is not accessible if you've made further modifications. Remove the custom ad blocker rule(s) and the page will load as expected.