Welcome to Cryptid Wiki
The wiki about cryptids, that anyone can edit.
---
Cryptids are monsters... except that cryptids could actually exist! When talking about Bigfoot or the Loch Ness Monster you're talking about something that could live right on this Earth right now! On Cryptid Wiki, we document all of the possible information you can get about cryptids and determine if they're real or not.
You can contribute to this wiki. Do you want to make a new article? Just type in the name of the article in the box below and click "Create new article."
We do not accept creepypasta monsters, such as slenderman, herobrine, the rake, or any others as they are, well, creepypasta. If you create a page like this, you will be issued a warning and the page will be deleted.
Providing

1,212

articles

and

5,143 images

since July 29, 2009
Featured Article (September 2016)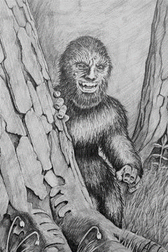 The Venezuelan Hairy Dwarves are a variety of hairy humanoid that is shorter than the average human. Unlike the more normal types of hairy humanoid such as Bigfoot, hairy dwarfs are technologically adept. In fact, they are often associated with UFOs. In the early days of the UFO craze, witnesses often reported that the aliens were hairy dwarfs instead of the classic "grays" that seem to be most popular today. In time, hairy dwarf reports became much less common. Hairy dwarfs are hardly ever reported today.
Because of their association with UFOs and high technology, hairy dwarfs are generally kept separate from another miniature Bigfoot-type creature, the proto-pygmy, a creature that has behaviors more typical of a mystery primate or primitive human. Sometimes hairy dwarfs are linked with reports of larger hairy humanoids that are either reported as occupying UFOs or are seen in the same areas as UFOs and only when a current UFO scare is underway. Some of these larger hairy humanoids are quite bizarre, including even such things as werewolves.
Read previous featured articles

•

Nominate future articles
Forum Activity
Create an Article
To create a cryptid related article, type a title in the box below, and click Create article. But before you do, please check if the article already exists on a different name.
We need your help
Cryptid Wiki is a constantly growing encyclopedia of cryptozoological knowledge. To help the wiki grow, use the search tools provided to find a section of the wiki to help improve. You can improve the wiki by adding more accurate or current information, images, data, and much more. Look around and see how you might like to contribute!
.