Welcome to Cryptid Wiki
The wiki about cryptids, that anyone can edit.
---
Cryptids are monsters... except that cryptids could actually exist! When talking about Bigfoot or the Loch Ness Monster you're talking about something that could live right on this Earth right now! On Cryptid Wiki, we document all of the possible information you can get about cryptids and determine if they're real or not.
You can contribute to this wiki. Do you want to make a new article? Just type in the name of the article in the box below and click "Create new article."
We do not accept creepypasta monsters, such as slenderman, herobrine, the rake, or any others as they are, well, creepypasta. If you create a page like this, you will be issued a warning and the page will be deleted.
Providing

1,214

articles

and

5,147 images

since July 29, 2009
Featured Article (October 2016)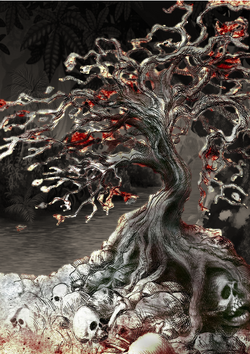 Umdhlebi (also known as Umdhlebe or Umdhlebie) is an unverified plant species purported to originate in Zululand, South Africa. It was first reported in the journal Nature on November 2nd, 1882 by Reverend G. W. Parker, a missionary in South Africa.
The Umdhlebi was described as having large, fragile green leaves, and two layers of bark—a dead outer layer that hung off the tree, and a new living layer that grew beneath it. The fruit of the tree was reported to be red and black, and hung from branches like small poles. Parker said the Umdhlebi poisoned animals that approached so that the natural process of decay would fertilize the soil in which it was growing. The ground around it was often littered with skeletons. When damaged, it was reported to release a dangerously caustic fluid.
Read previous featured articles

•

Nominate future articles
Forum Activity
Create an Article
To create a cryptid related article, type a title in the box below, and click Create article. But before you do, please check if the article already exists on a different name.
We need your help
Cryptid Wiki is a constantly growing encyclopedia of cryptozoological knowledge. To help the wiki grow, use the search tools provided to find a section of the wiki to help improve. You can improve the wiki by adding more accurate or current information, images, data, and much more. Look around and see how you might like to contribute!
.