Welcome to Cryptid Wiki
The wiki about cryptids, that anyone can edit.
---
Cryptids are monsters... except that cryptids could actually exist! When talking about Bigfoot or the Loch Ness Monster you're talking about something that could live right on this Earth right now! On Cryptid Wiki, we document all of the possible information you can get about cryptids and determine if they're real or not.
You can contribute to this wiki. Do you want to make a new article? Just type in the name of the article in the box below and click "Create new article."
We do not accept creepypasta monsters, such as slenderman, herobrine, the rake, or any others as they are, well, creepypasta. If you create a page like this, you will be issued a warning and the page will be deleted.
Providing

1,169

articles

and

4,967 images

since July 29, 2009
Featured Article (May 2016)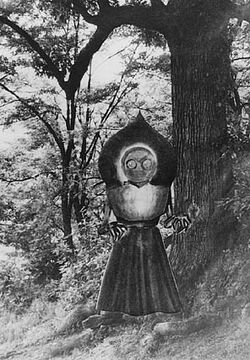 The Flatwoods Monster (also known as the Braxton County Monster or Frametown Monster) is a cryptid sighted in Flatwoods, West Virginia and Frametown, West Virginia, respectively. It is believed to be of extraterrestrial nature. The entity was initially reported as being about 10 feet tall and 4 feet wide. It appeared to be some sort of robotic suit or spacecraft rather than an organic being. It had a 'cowl' in the shape of an ace of spades behind a red round head. Set in the head were two eyes, described as 'portholes', glowing green-orange and the size of half-dollars.The 'body' was a metallic armored structure lined with thick vertical pipes. Discrepencies exist in the actual color of the armour, some claiming it to be black while others saying green. The existence of arms is a similar matter. Most state the monster was armless, while others claim it posessed small, "toy-like" arms.

The Frametown Monster, believed to be the same creature from Flatwoods, bore similar pipe-lined metallic armour from the waist down. From the wasit up, however, the being was a reptilian humanoid.

Extraterrestrial life is life that does not originate from Earth. It is also called alien life, or, if it is a sentient and/or relatively complex individual, an "extraterrestrial" or "alien" (or, to avoid confusion with the legal sense of "alien", a "space alien"). These as-yet-hypothetical life forms range from simple bacteria-like organisms to beings with civilizations far more advanced than humanity. Although many scientists expect extraterrestrial life to exist, so far no unambiguous evidence for its existence exists.
Read previous featured articles

•

Nominate future articles
Forum Activity
Create an Article
To create a cryptid related article, type a title in the box below, and click Create article. But before you do, please check if the article already exists on a different name.
We need your help
Cryptid Wiki is a constantly growing encyclopedia of cryptozoological knowledge. To help the wiki grow, use the search tools provided to find a section of the wiki to help improve. You can improve the wiki by adding more accurate or current information, images, data, and much more. Look around and see how you might like to contribute!
.