Welcome to Cryptid Wiki
The wiki about cryptids, that anyone can edit.
---
Cryptids are monsters... except that cryptids could actually exist! When talking about Bigfoot or the Loch Ness Monster you're talking about something that could live right on this Earth right now! On Cryptid Wiki, we document all of the possible information you can get about cryptids and determine if they're real or not.
You can contribute to this wiki. Do you want to make a new article? Just type in the name of the article in the box below and click "Create new article."
We do not accept creepypasta monsters, such as slenderman, herobrine, the rake, or any others as they are, well, creepypasta. If you create a page like this, you will be issued a warning and the page will be deleted.
Providing

1,125

articles

and

4,699 images

since July 29, 2009
Featured Article (February 2016)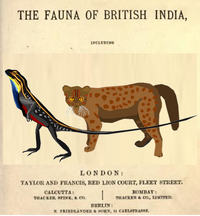 The Giant Indian Bipedal Lizard is a unique agamid sighted by M. A. Smith in 1941.

Subcontinent's most widespread and charismatic lizards, found in many of the region's drier, scrubbier habitats. Not surprisingly, lizards across this vast range vary dramatically, most strikingly in the size and coloration of the throat-fans for which they're named.  

When disturbed, this lizard runs with a bipedal gait.  

A larger variation of Sitana ponticeriana was reported to inhabit Salsette Island (formerly known as the seven islands of Bombay before land reclamation projects).

This cryptid's unusual size is believed to be a result of island gigantism.
Read previous featured articles

•

Nominate future articles
Forum Activity
Create an Article
To create a cryptid related article, type a title in the box below, and click Create article. But before you do, please check if the article already exists on a different name.
We need your help
Cryptid Wiki is a constantly growing encyclopedia of cryptozoological knowledge. To help the wiki grow, use the search tools provided to find a section of the wiki to help improve. You can improve the wiki by adding more accurate or current information, images, data, and much more. Look around and see how you might like to contribute!