Welcome to Cryptid Wiki
The wiki about cryptids, that anyone can edit.
---
Cryptids are monsters... except that cryptids could actually exist! When talking about Bigfoot or the Loch Ness Monster you're talking about something that could live right on this Earth right now! On Cryptid Wiki, we document all of the possible information you can get about cryptids and determine if they're real or not.
You can contribute to this wiki. Do you want to make a new article? Just type in the name of the article in the box below and click "Create new article."
We do not accept creepypasta monsters, such as slenderman, herobrine, the rake, or any others as they are, well, creepypasta. If you create a page like this, you will be issued a warning and the page will be deleted.
Providing

1,201

articles

and

5,107 images

since July 29, 2009
Featured Article (August 2016)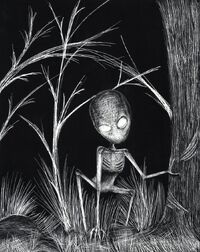 The Mannegishi is a cryptid and myth of the Cree Natives of Canada. According the the Cree, there are two kinds of people: normal people like you, and the miniature people like the Mannegishi. They say that the Mannegishi is a mischievous trickster.
It is reported as a small, human-like entity with slender arms and legs, with each hands sporting six fingers each. The thing that makes this cryptid unique is the large head, big eyes, and the lack of a nose or mouth. They are an aquatic based cryptid, and spend most of their time in dams in the river. This cryptid has a very peculiar method of breathing. It absorbs the oxygen through the water through its skin—notably, this is similar to one method of how amphibians breathe.
Some, like zoologist and cryptozoologist Karl Shuker, believe that the Mannegishi and Dover Demon are possibly the same thing as the are both small, slender, have large eyes and a large, round head.
The Mannegishi are adept crafters and use stone as their primary medium. They have been known to carve pictographs into stone. They are also found often within rock dwellings such as caves, typically by rivers and streams.
Read previous featured articles

•

Nominate future articles
Forum Activity
Create an Article
To create a cryptid related article, type a title in the box below, and click Create article. But before you do, please check if the article already exists on a different name.
We need your help
Cryptid Wiki is a constantly growing encyclopedia of cryptozoological knowledge. To help the wiki grow, use the search tools provided to find a section of the wiki to help improve. You can improve the wiki by adding more accurate or current information, images, data, and much more. Look around and see how you might like to contribute!
.