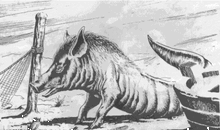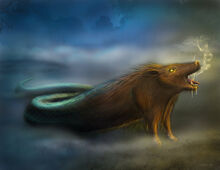 Cuchivilu - Chile mythology: a half pig half snake, aquatic creature. When the fisherman would put in the fishing lines and take them out, full of fish, the cuchivilu would jump in it, destroy it, and eat all the fish. That part if water would then be cursed and no more fish would ever be caught there. This creature was actually based on the elephant seal.
Ad blocker interference detected!
Wikia is a free-to-use site that makes money from advertising. We have a modified experience for viewers using ad blockers

Wikia is not accessible if you've made further modifications. Remove the custom ad blocker rule(s) and the page will load as expected.