Deep Loch Ness is an upcoming American, made-for-tv horror film. It will be released sometime in September of 2017, and is currently being directed by Jim Lister. So far, the film cast includes Mc Jones, Rookie Burwick and Danette L. Brits.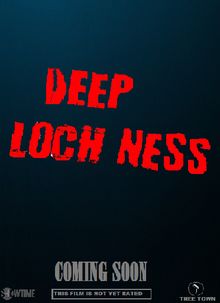 Plot
Ryan Wellum is a marine biologist who's working with his brother on a project that may change the study of sea life as any scientist knows it. They're hoping to find and extract gamma radiation from a small lake near the mountain town of Higherlye. But, when the machinery malfunctions, it sends off loud sound rays down into the lake.
Now, something large and terrifying emerges from the lake. Neither of them can say what it is, but they watch as it destroys their machinery and research, and Ryan watches as his devours his brother, and then disappears into the water.
Driven by a need for revenge, Ryan hires the help of a local hunter to help him bring the creature down. But, that isn't going to be easy.
The shores of Lake Risper are about to become bloody. Terror has come to Lake Risper. And it came from Loch Ness.
Cast
Mc Jones as Ryan Wellum
Rookie Burwick as Dan Lirse
Danette L Brits as Kerrie
Noah Brolm as Tye Wellum
Ad blocker interference detected!
Wikia is a free-to-use site that makes money from advertising. We have a modified experience for viewers using ad blockers

Wikia is not accessible if you've made further modifications. Remove the custom ad blocker rule(s) and the page will load as expected.