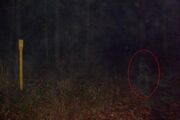 Around 2008 or 2009 in Kędzierzyn-Koźle, Poland a mysterious paranormal being was being spotted in the woods. A ghost or some different creature, nobody still knows what it really was to this very day. It is also known in polish as the Duch z Kędzierzyna Koźla (The Kędzierzyn-Koźle Ghost) or Łysa Dziewczynka Na Rowerku (Bald Bicycle Girl)
History
In 2008 strange things started happening in the city, with people telling that they saw what they described as a "ghost". Only one report is described in details, and comes from two teenagers going by names Daniel and Wojtek. They went into the woods, and around the Biały Ług Leśniczówka, they started feeling mysterious presence around them. They described that the temperature of air was normal at their left side, but strangely cold to their right. The boys ran away from the woods, but could feel that this strange force is "chasing them" up until they managed to get back to the town. Many other reports were allegedly made, and some of them were present on the now defunct Polish portal grono.net. According to them, children were scared to go to school alone because of it, and the story was picked up by Polish media, and became an internet sensation, leading even to someone creating a fake profile of her on the polish NaszaKlasa portal. Around 2009 however, the creature disappeared and was nowhere to be seen. No more reports were made, and everyone just assumed it was a case of mass hysteria.
Description
The creature was described as a small ghostly girl, with a bald head. It was driving around on a bicycle or a tricicle, and some versions of the story described her as also having large, jagged claws extending out of her fingertips. Two or three versions of her "backstory" exist, one of them describes her as a girl that died at young age due to cancer (hence the bald head), second one about her father killing her and dumping her body into the swamp and third, the most disturbing one is about soviet soldiers carrying her into the forest, raping her and then cutting her hair only to then kill her. All three stories however have one thing in common, saying that the girl died just right after the end of World War II.
Ad blocker interference detected!
Wikia is a free-to-use site that makes money from advertising. We have a modified experience for viewers using ad blockers

Wikia is not accessible if you've made further modifications. Remove the custom ad blocker rule(s) and the page will load as expected.