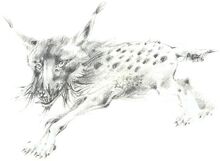 Animal mythical Galician, believed it is begotten of union between a Wolf and a Fox, so it may present aspect of Fox or wolf in red stained appearance. It is very fierce and dangerous with the ability of paralyzes with the look and you can see through the walls, so it is advisable to run away from him and let him eat whatever he wants without disturbing it. Sometimes go to cemeteries to unearth corpses, on which it feeds. It is nothing to yell or try to frighten him with loud noises so go when it attacks, it is dull.
Spanish
Animal mítico gallego, se cree que es engendrado de la unión entre un lobo y una zorra, por lo que puede presentar aspecto de zorro o aspecto de lobo con piel roja con manchas. Es muy feroz y peligroso con la capacidad de paraliza con la mirada y puede ver a través de las paredes, por lo que es aconsejable huir de él y dejarle comer lo que quiera sin molestarlo. A veces acude a los cementerios a desenterrar cadáveres, de los que se alimenta. No sirve de nada gritarle o intentar espantarlo con ruidos fuertes para que se vaya cuando ataca, pues es sordo.
Ad blocker interference detected!
Wikia is a free-to-use site that makes money from advertising. We have a modified experience for viewers using ad blockers

Wikia is not accessible if you've made further modifications. Remove the custom ad blocker rule(s) and the page will load as expected.