Chinese mythology. Longzhi (蠪蛭) There is a beast here whose form resembles a fox but with nine tails, nine headed, and a tiger's claws. It is called the Longzhi. It makes a sound like a baby but is a man-eater. This is another creature whose features are multiplied by the magic number nine. From the description, it could be considered a kind of Nine-Tail Fox.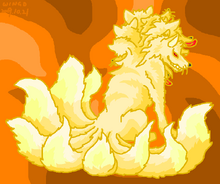 Ad blocker interference detected!
Wikia is a free-to-use site that makes money from advertising. We have a modified experience for viewers using ad blockers

Wikia is not accessible if you've made further modifications. Remove the custom ad blocker rule(s) and the page will load as expected.