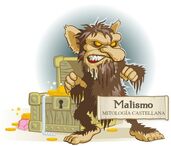 Spanish mythology: Malismo (small troll) with hooked nose and huge ears and tail and hairy.
A Malismo stands more than 2'6 feet tall and weighs about 35 pounds.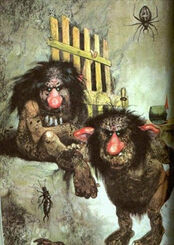 Spanish
Estos duendes trogloditas, denominados "malismos" o "Mala cosa" son idénticos a los trolls nórdicos, por lo que es probable que este mito fuera llevado a Castilla por los godos. De feas facciones, babeantes, llenos de pelos que le cubren todo el cuerpo en largas y grasientas melenas y muy agresivos.
Habitan lúgubres cuevas o antros oscuros, junto al resto de criaturas nocturnas. Algunos se encargan de guardar tesoros que hay bajo tierra. Nunca acuden a la superficie, la luz les molesta o consume. Los más peligrosos de todos los duendes, ya que son habilidosos en la brujería.
Ad blocker interference detected!
Wikia is a free-to-use site that makes money from advertising. We have a modified experience for viewers using ad blockers

Wikia is not accessible if you've made further modifications. Remove the custom ad blocker rule(s) and the page will load as expected.