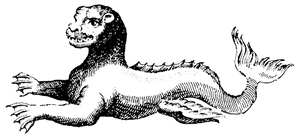 Marine Lion
or
Sea Lion
is a creature described in
On Monsters and Marvels
, a book written by a french man, Ambrose Pare, in the 16th century. Just like the name suggested, the creature was described as a marine lion like creature with a fish's tail and covered in scales. It also was reported to have webbed hands and a human-like voice. It has been reported to have been captured in 1540 in the Tyrrhenian Sea. The creature was intended to be shown to the Bishop of Castre but died soon after its capture.
"As unpredictable—and probably just as controversial—as UFOs, Leyak are a supernatural phenomenon most feared by many Indonesians."

This article is a stub. You can help the Cryptozoologists and Cryptobotanists on Cryptid Wiki find other information or by expanding it.
Ad blocker interference detected!
Wikia is a free-to-use site that makes money from advertising. We have a modified experience for viewers using ad blockers

Wikia is not accessible if you've made further modifications. Remove the custom ad blocker rule(s) and the page will load as expected.