The Matah Kagmi are bigfoot reported to live near California's Mount Shasta. The Native Americans around those parts tell tales of how the creatures are friendly and will sometimes trade with them. Matah Kagmi are said to be 8 to 10 feet tall, covered in coarse hair, have brown eyes, and give off a musky odor. There was a sighting that occurred sometime in 1900.
Sighting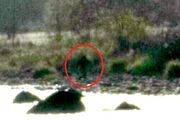 A Modoc man was once trekking Mount Shasta when he was bitten by a rattlesnake. The man was rescued by 3 Matah Kagmi who treated his bite.
"As unpredictable—and probably just as controversial—as UFOs, Leyak are a supernatural phenomenon most feared by many Indonesians."

This article is a stub. You can help the Cryptozoologists and Cryptobotanists on Cryptid Wiki find other information or by expanding it.
Ad blocker interference detected!
Wikia is a free-to-use site that makes money from advertising. We have a modified experience for viewers using ad blockers

Wikia is not accessible if you've made further modifications. Remove the custom ad blocker rule(s) and the page will load as expected.