Monster in My Pocket are toys that look like monsters developed by Morrison Entertainment Group. Photos of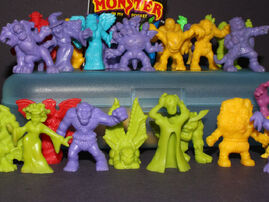 Monsters in My Pockets have been featured in many different pages. It includes monsters from religion, mythology, literary fantasy, science fiction, cryptids, movie monsters and other phenomena.
About Monster in My Pocket
Monster in My Pocket produced trading cards, comic books, toys, a board game, a video game, and an animated special, along with music, clothing, kites, stickers, and various other items. They are similar to S. L. U. G. Zombies, a toy featuring different zombies that isn't in stores anymore.
Ad blocker interference detected!
Wikia is a free-to-use site that makes money from advertising. We have a modified experience for viewers using ad blockers

Wikia is not accessible if you've made further modifications. Remove the custom ad blocker rule(s) and the page will load as expected.