| | |
| --- | --- |
| | "Theoretical speculation is futile unless it is supported by quantitative evidence." |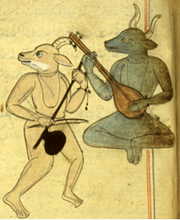 The Nasnas is another form of jinn, hybrids of human-like and animal-like forms, and may account for some of our encounters with mysterious creatures. It is described in The Book of 1001 Nights as a half-human being, that is, it has half a head, half a body, one arm, one leg. It hops about on its single leg. The nasnas was said to be the offspring of a shiqq (see below) and a human being. A character in "The Story of the Sage and the Scholar", a tale from the collection, is turned into a Nasnas after a magician applies kohl to one of his eyes. Muḥammad al-Qazwīnī's book of Jinn, "Marvels of Things Created and Miraculous Aspects of Things Existing", features many forms of Nasnas, including an elephant-humanoid Jinn.
Gallery
Ad blocker interference detected!
Wikia is a free-to-use site that makes money from advertising. We have a modified experience for viewers using ad blockers

Wikia is not accessible if you've made further modifications. Remove the custom ad blocker rule(s) and the page will load as expected.