The Northern Giant is reported to be a gargantuan-sized bear that roams the outskirts of Fairbanks, Alaska. This
creature could possibly be a ancestor, or an actual, short-faced bear, but it could also just be a giant-sized grizzly, or a Kodiak brown bear, which are one of the biggest species of bear in the world that are only found in Alaska. The bear-type creature is reported to be around 14 to 15 feet to the shoulder, has golden-colored fur, and extremely large paws that could do lethal damage to any animal, even a large moose. This is yet another creature that appears on Alaska Monsters.
"As unpredictable—and probably just as controversial—as UFOs, Leyak are a supernatural phenomenon most feared by many Indonesians."

This article is a stub. You can help the Cryptozoologists and Cryptobotanists on Cryptid Wiki find other information or by expanding it.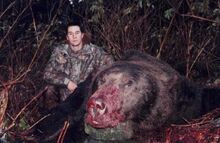 Ad blocker interference detected!
Wikia is a free-to-use site that makes money from advertising. We have a modified experience for viewers using ad blockers

Wikia is not accessible if you've made further modifications. Remove the custom ad blocker rule(s) and the page will load as expected.