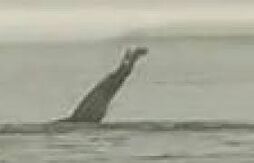 Prespan lake monster is a supposed monster living in The Prespan Lake. Prespa is the name of two freshwater lakes in southeast Europe, shared by  Albania, Greece, and the Republic of Macedonia.
The Loch ness monster-like creature has been seen and caught on camera.
The news spread everywhere and it was broadcasted on BBC
The Monster of Lake Prespa on Youtube
In this video a group of Crytozoologyists investigate the incident
Ad blocker interference detected!
Wikia is a free-to-use site that makes money from advertising. We have a modified experience for viewers using ad blockers

Wikia is not accessible if you've made further modifications. Remove the custom ad blocker rule(s) and the page will load as expected.