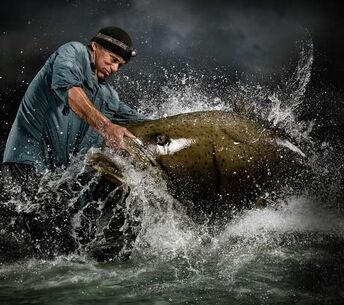 River Monsters is an Animal Planet television show featuring biologist and extreme angler Jeremy Wade in his quest to find, catch and examine dangerous freshwater animals reported all across the world. Wade's investigations have lead him all over the world to countries including the U.S., Canada, Nicaragua, Colombia, Bolivia, Brazil, Guyana, Argentina, Spain, Ukraine, Russia, Germany, Japan, Thailand, Mongolia, Australia, Papua New Guinea, India and countless African countries like South Africa and the Democratic Republic of the Congo and many others. This hit Animal Planet program began airing in 2009 and continues to air today.      
Episodes
There are currently 49 River Monsters episodes including the regular episodes, Lost Reels episodes and specials.
Season 1: 2009
1: Piranha
In this episode, Jeremy Wade travels to The Amazon River in Brazil to investigate a possible attack where people were killed in a bus crash by Piranhas. After finding other reports of Piranha attacks on humans and performing various experiments, such as offering himself up as bait, Wade concluded that the bus crash victims were likely eaten after they drowned and that Piranhas rarely attack humans. He would later be proven wrong in another episode in Season 5 called "Face Ripper."
Gallery
Ad blocker interference detected!
Wikia is a free-to-use site that makes money from advertising. We have a modified experience for viewers using ad blockers

Wikia is not accessible if you've made further modifications. Remove the custom ad blocker rule(s) and the page will load as expected.