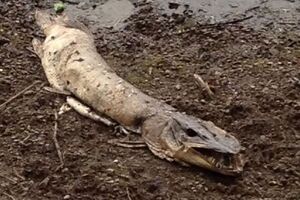 The Roch Ness Monster is the nickname given to a globster found in 2015 in Rochdale, England near Hollingworth Lake. Its name is a pun on the Loch Ness Monster, a famous cryptid from Scotland. It was nearly a meter and a half long and had a mouth full of razor sharp teeth. Though it is currently unidentified, many experts believe that it is likely some species of pike, a common fish in English waters.
References
http://www.news.com.au/technology/science/animals/12-unidentified-creatures-that-washed-up-on-beaches-around-the-world/news-story/ceb11698de2ef2cde6a31bba92414a8c
"As unpredictable—and probably just as controversial—as UFOs, Leyak are a supernatural phenomenon most feared by many Indonesians."

This article is a stub. You can help the Cryptozoologists and Cryptobotanists on Cryptid Wiki find other information or by expanding it.
Ad blocker interference detected!
Wikia is a free-to-use site that makes money from advertising. We have a modified experience for viewers using ad blockers

Wikia is not accessible if you've made further modifications. Remove the custom ad blocker rule(s) and the page will load as expected.