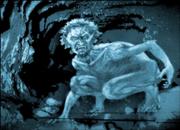 Strigois are spirits who had led troubled lives from Romania.
Appearance
Most Strigois have crimson hair, indigo eyes and two hearts. However, they normally take the form of other entities. They survive by sucking blood and normally transform into animals or spirits. It is said that strigois haunt villages during the night, when they get out of their graves to feed themselves with animals' blood. In the romanian culture, when an animal was sick it was said that it might have been the victim of a strigoi.
How to become a Strigoi
Lead a troubled or unfinished life.
Be born out of wedlock
Die before being baptized
Die unnaturally
Birth defects
How to prevent or remove a Strigoi
         Prevent

Bury a bottle of whisky with the corpse
Destroy the corpse before its buried
         Remove

Ad blocker interference detected!
Wikia is a free-to-use site that makes money from advertising. We have a modified experience for viewers using ad blockers

Wikia is not accessible if you've made further modifications. Remove the custom ad blocker rule(s) and the page will load as expected.