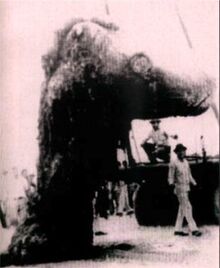 The
Tecolutla Monster
was a cryptid carcass discovered in 1969 in Veracruz, Mexico. It was discovered by a group of farmers walking along the beach at night, where the beast was described to still be alive. It was described as being 22 meters long and having armor, wool, massive eye sockets, a beak, and horns. The skull of the beast was later collected and was determined to actually belong to a Sei Whale, proving that the monster was just a decomposing whale carcass.
References
http://scienceblogs.com/tetrapodzoology/2008/07/10/tecolutla-monster-carcass/
Ad blocker interference detected!
Wikia is a free-to-use site that makes money from advertising. We have a modified experience for viewers using ad blockers

Wikia is not accessible if you've made further modifications. Remove the custom ad blocker rule(s) and the page will load as expected.