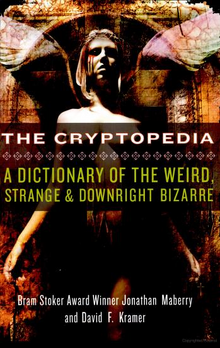 The Cryptopedia: A Dictionary of the Weird, Strange & Downright Bizarre, a noted book on cryptozoology, was written by Jonathan Maberry, an American author who has won multiple Bram Stoker Awards.
Description
At the edge of the known world, demons, monsters, and baffling phenomena abound. To help you navigate this mystery-shrouded realm where the supernatural mingles with the paranormal, fright-guides Maberry and Kramer present The Cryptopedia. It divides the other worldly into chapters, from angels to poltergeists to UFOs and more. The authors decode occult symbols, demystify the art of fortune-telling, and discuss the myriad strange and bizarre forces at work in the Larger World.
Ad blocker interference detected!
Wikia is a free-to-use site that makes money from advertising. We have a modified experience for viewers using ad blockers

Wikia is not accessible if you've made further modifications. Remove the custom ad blocker rule(s) and the page will load as expected.