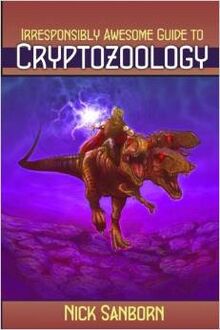 Well, this book is quite "different" from most Cryptozoological guides. It features clever, observed, and comical logic for even the most basic cryptids.
Written by Nick Sanborn, a noted hoax maker, his guide gives a unique outlook on cryptozoology.
Description
It's here! Nick Sanborn's unapologetic journey to discover the secrets of the Earth's most legendary monsters and mythological beings.
A book so awesome no one can be held responsible for anything it does to you -- and it will. Fully illustrated, 212 pages, 39 chapters, and now featuring graphic entries from the field. Buy two: one for an ugly sibling or significant other.
Review
While Cryptozoology is a challenging topic for some people to take seriously, this book will insult your intelligence whether you believe in any of these animals or not. 
Fantastically witty and perfectly offensive! Great to share with other adult aged children at heart. Perfectly disgusting.
I enjoyed every entry; imagine your loaded college roommate rambling incoherently about Bigfoot, and you get the general idea.
Ad blocker interference detected!
Wikia is a free-to-use site that makes money from advertising. We have a modified experience for viewers using ad blockers

Wikia is not accessible if you've made further modifications. Remove the custom ad blocker rule(s) and the page will load as expected.