the wamp is a fearsome critter said to be around the size of a raccoon , with a gray body, shaped like a salt sack and a hollow tail with a salt shaker on the end of it. the wamp goes around shaking salt at the roots of trees every few miles, and the deer [ deers were said to love salt ] lick it up and run to tell their friends about it. if a wamp is around there are more deers than ever .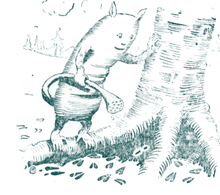 Ad blocker interference detected!
Wikia is a free-to-use site that makes money from advertising. We have a modified experience for viewers using ad blockers

Wikia is not accessible if you've made further modifications. Remove the custom ad blocker rule(s) and the page will load as expected.